Seismic Explosive
Tovex® Seismic is a water gel explosive especially designed for Seismic Exploration. It is a cap sensitive product and need to be initiated with seismic detonator (by virtue of application). Taking into consideration the In direct comparison to seismographic 60% high-velocity dynamite, below are the advantages it has; In direct comparison to seismograph 60% high-velocity dynamite;


Tovex® Seismic Explosive is proven to be consistently high performing with far less risk in handling as compared to any of the class called dynamite.

Much safer in use, been totally non-toxic fume generator.
No headache while working with Biafo seismic product which on the contrary is inbuilt problem of dynamite by virtue of its ingredients.
Shot hole results reveal its performance better than dynamite for Seismic prospecting.
Seismic Explosive chub being hermetically produced is particularly well suited for application as a longer time sleep charge.
Excellent resistance to water and thus don't desensitize under high hydrostatic pressures in the bore holes.
The chubs are exceptionally of high quality material and can be screwed together to form a string as per desired length by virtue of application.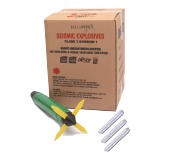 Technical Specifications
Plain Detonator
No. 8
Length of Leg wire
4.5, 7, 15, 20, 25 and 30 Meter
Wire Resistance
0.05 ~ 0.055 ohms / mtr (Single tin wire PVC coated)
Maximum No Fire energy
7 milli-watts/ ohm
Maximum Operating Energy
15 milli-watts/ ohm
Water Resistance
Excellent (in packing)
Packing
50 Pcs in a card board box and 500 Pcs in a corrugated carton

4.5 & 7 meter: 25 pieces in a card board box and 10 card board boxes in a corrugated carton
20, 25 & 30 meter: 10 spools/pieces in a card board box and 10 card board boxes in a corrugated carton

Heat Test
Stable at temperature of +70 0C
Environmental Conditions
Stable at temperature range of -50 0C to +60 0C
Explosive Classification
Class 6, Division 3, UN No 0456 Group 1.4S